Keep Calm & Golf On
There are still spots remaining in the 15th Annual Golf Tournament!
Don't miss your chance to play the unique and picturesque West Hill Golf Course. This private 9-hole, 3,255-yard, par 36 course is nestled in the hills of Stowe with spectacular views of Nebraska Valley and the Worcester Range.
Come to the Calcutta Social to bid on your favorite team. If your team wins, you win a cash prize!
Join us after the tournament at our Annual Summer Cocktail Party at the West Hill Golf Course Clubhouse.
NEW! Summer Naturalist Program at Mill Trail
Join Krista, our Summer Naturalist, each Saturday throughout the summer and early fall to learn about the history and ecology of the Mill Trail. Fun for the whole family!
Benefit Bake a Great Success!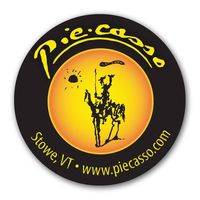 The Piecasso Benefit Bake raised $1,655 to support the future of land conservation in Stowe.
Thank you to Ed & Sarah Rovetto, all of the Piecasso staff, MadMan3 (for the tunes) and everyone who came out on Monday, June 9th to eat pizza!