Stowe Land Trust Hires New Operations Manager
Metzi Anderson
The Stowe Land Trust (SLT) is pleased to welcome Metzi Anderson as Operations Manager. Metzi will be replacing Erin Bruhns, who is moving to Vancouver, BC after seven years with SLT. Metzi will be managing financial data, overseeing the outreach program and implementing the annual membership appeal. She will also coordinate all office operations. Metzi, a Stowe native, brings over five years of experience in overseeing the daily operations of two non-profit trade associations and holds a BA in Complex Organizations from Mount Holyoke College.
Bringing the Historic Mill Trail Cabin Back to Life
Learning about the history of Stowe came alive for Stowe Elementary School fourth graders who visited the Mill Trail property off of Notchbrook Road. The classes spent time exploring the foundations of an old hill farm and a site where a sawmill and blacksmith's shop once operated. But for most, the highlight was visiting the property's historic cabin where major renovations were recently completed.
Benefit Bake a Great Success!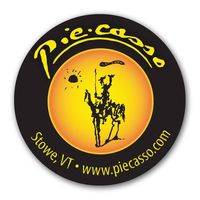 The Piecasso Benefit Bake raised $1,655 to support the future of land conservation in Stowe.
Thank you to Ed & Sarah Rovetto, all of the Piecasso staff, MadMan3 (for the tunes) and everyone who came out on Monday, June 9th to eat pizza!