Trail Closure
Due to the numerous recent reported bear sightings and encounters over the past couple of weeks, we have temporarily closed the trails at Wiessner Woods until further notice to minimize the potential for human-bear conflicts.
Thank you for giving them space and for your assistance with stewarding this special place.
Additional information on black bears in Vermont.
Looking for an alternative walking destination?
Visit Kirchner Woods on Taber Hill or Mill Trail on Notchbrook Road.
Let's Celebrate
Join us for our Annual Celebration in Cady Hill Forest!
Enjoy homemade pie and Ben & Jerry's ice cream.
Choose from five fun outings!
Sunday, September 7th.
Please note! After learning that local icon Lefty Lewis' memorial celebration is being held on the same day from 4:00-6:00 pm at The Matterhorn, we have altered our schedule of events so that folks may attend both events if they wish.
NEW! Summer Naturalist Program at Mill Trail
Join Krista, our Summer Naturalist, each Saturday throughout the summer and early fall to learn about the history and ecology of the Mill Trail. Fun for the whole family!
Benefit Bake a Great Success!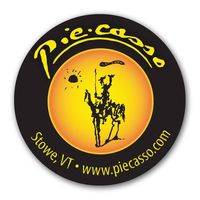 The Piecasso Benefit Bake raised $1,655 to support the future of land conservation in Stowe.
Thank you to Ed & Sarah Rovetto, all of the Piecasso staff, MadMan3 (for the tunes) and everyone who came out on Monday, June 9th to eat pizza!