Newsletter Available Online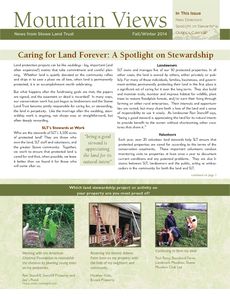 Mountain Views is our bi-annual paper newsletter filled with interesting information about Stowe, the land trust and land conservation efforts in our community. You'll also find a calendar of outings & events, as well as helpful information on how to access our conserved lands. We like to include articles filled with suggestions for activities that will help you have more fun outdoors. Enjoy!
SLT Elects 3 New Directors

Three new board members were elected by Stowe Land Trust's (SLT) membership at the 27th Annual Meeting celebration held on Sunday, September 7th. Clifford Borden, Sam Gaines and Walt Looney will join nineteen existing board members responsible for governing the community conservation organization.
Bringing the Historic Mill Trail Cabin Back to Life
Learning about the history of Stowe came alive for Stowe Elementary School fourth graders who visited the Mill Trail property off of Notchbrook Road. The classes spent time exploring the foundations of an old hill farm and a site where a sawmill and blacksmith's shop once operated. But for most, the highlight was visiting the property's historic cabin where major renovations were recently completed.