Mill Trail Cabin in LTA's Saving Land Magazine
In the Winter 2015 edition of Saving Land Magazine, a quarterly publication of the Land Trust Alliance, the Mill Trail Cabin is one of four properties featured in an article examining the connection between historic preservation and land conservation. Read about the cabin and other historic places from California to Vermont preserved for their human history. Click here for the full article. The Land Trust Alliance is a national conservation organization. For more information about the Land Trust Alliance click here.
Farewell Kirchner Woods Sugarhouse
This past Thursday, December 4th, Stowe Land Trust removed the collapsed sugarhouse at Kirchner Woods with help from Jed and Karl Lipsky of Lipsky Logging LLC. The structure was beyond repair when the land trust purchased the property from Jerry Kirchner's estate in 2009 and finally succumbed under heavy snows earlier this year. Unfortunately, most of the sugaring equipment was also in poor condition and could not be salvaged, except for a small evaporator, which the land trust has retained. Read the full story.
Newsletter Available Online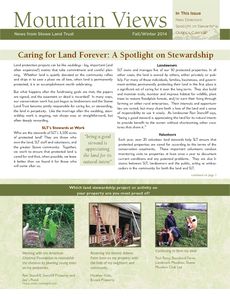 Mountain Views is our bi-annual paper newsletter filled with interesting information about Stowe, the land trust and land conservation efforts in our community. You'll also find a calendar of outings & events, as well as helpful information on how to access our conserved lands. We like to include articles filled with suggestions for activities that will help you have more fun outdoors. Enjoy!