Main content
January 19, 2022
Join our team! We are hiring a Summer Naturalist. Click here to learn more about this full-time temporary VHCB AmeriCorps position.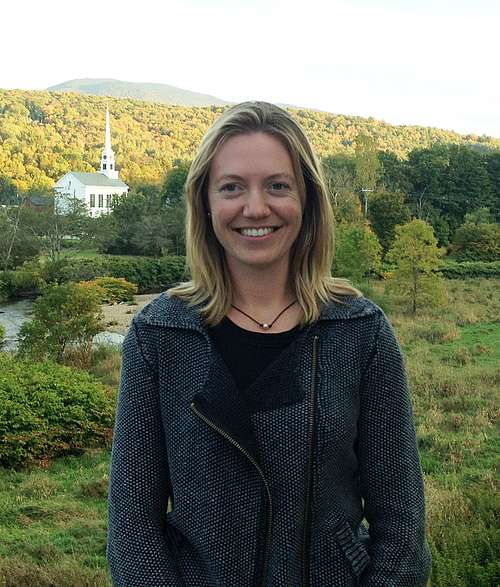 Metzi became Director of Operations and Finance in 2021 after being Stowe Land Trust's Operations Manager since October 2014.
Metzi, who was born and raised in Stowe, holds a BA in Complex Organizations from Mount Holyoke College and arrived at Stowe Land Trust after five years working for real estate trade associations in Massachusetts and New York.
Metzi's appreciation for land conservation began at an early age when her family conserved their land which adjoins Sterling Forest with the Vermont Land Trust and created the Sterling Falls Gorge Natural Area. This interest in caring for the land was cultivated further by spending many hours helping her dad clear blowdowns on the trails in Sterling Forest and summers home from college as a Vermont Youth Conservation Corps crew member maintaining hiking trails in Sterling Falls Gorge and in the Moosalamoo region of the Green Mountain National Forest.
An avid skier, mountain biker and runner, Metzi enjoys the beautiful trails on Stowe Land Trust conserved land and the many other trail networks in the surrounding region.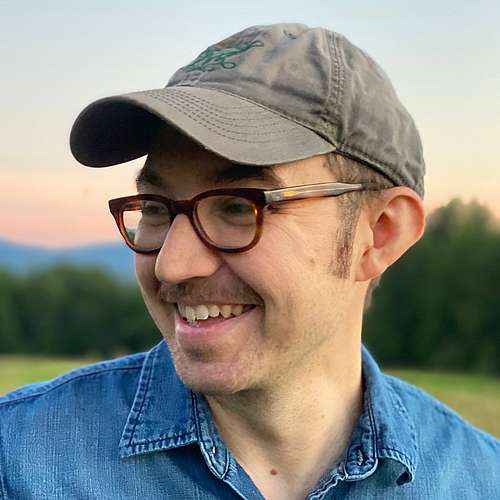 Barry joined SLT as the Community Engagement Manager in October 2021.
Barry is a storyteller, educator, and environmental historian committed to fostering sustainable relationships with the natural world. Originally from Charlottesville, Virginia, Barry arrives in Stowe after several years spent in the Berkshires. As the Land Trust's Community Engagement Manager he organizes public programs, builds community partnerships, and supports the organization's outreach and communication efforts. Barry joins SLT following a TerraCorps service year as Community Engagement Coordinator at Hilltown & Franklin Land Trusts in western Massachusetts. Previously, he held a variety of roles in higher education and museum interpretation. He holds a BA in Art History from VCUarts and an MA in American Studies from the College of William & Mary.
Barry enjoys spending time in the kitchen, trying new recipes and hosting potluck dinners. An outdoors enthusiast, he is looking forward to exploring the trails, roads, waters and slopes of Stowe and its surrounds.
Meredith joined SLT as the Conservation Program Manager in January 2022.
Meredith is an ecologist and land steward, driven by understanding and sharing the parts and processes of the natural world. Most recently, Meredith earned a master's degree from the Field Naturalist & Ecological Planning Program at the University of Vermont. She continues to be passionate about her graduate work, where she collaborated with VT Departments of Fish & Wildlife and Forests, Parks, & Recreation to analyze the effects trail recreation has on wildlife in Vermont and develop planning and management strategies that support both elements of our landscape. Meredith moved to Vermont in 2012 after graduating from Earlham College with a degree in biology and has since worked in ecological research & education, environmental policy, and trail stewardship. At the heart of it all, Meredith believes the way we interact with other people and our landscape should be similar—by listening carefully and with an abundance of respect.
As the land trust's Conservation Program Manager, Meredith plays a central role in completing land protection projects and is responsible for managing SLT's stewardship program and its portfolio of conservation easements and fee lands. When not at work, Meredith enjoys spending time outside moving fast, as a runner and biker, and more slowly, by botanizing, birding, and fishing. When not in nature, she can be found surrounded by a project, making and fixing things, or lost in a book.
Kristen became Executive Director in 2018 after a four-year tenure as SLT's conservation program manager.
Kristen leads SLT's land protection work and oversees a talented team to achieve strategic financial, land stewardship, and community conservation results. Previously, Kristen served as a conservation biologist at Audubon Vermont where she worked as part of a team to implement strategic regional conservation initiatives, including the Foresters for the Birds Project. Kristen is a graduate of the University of Vermont's Field Naturalist Program and has worked as a consulting ecologist and volunteer specializing in assisting municipalities with community-based town forest planning.
Kristen lives in Stowe with her family and is likely to be seen walking to work, digging in her garden, buying dark chocolate at Laughing Moon, or enjoying après ski with friends.