Main content
Current Projects
We center our work on four key initiatives: Loving our Forests and Farms; Expanding Recreation for All; Creating Healthy Habitats; and Creating Community Connections.
To learn more about our priorities, read our new 5-year strategic plan.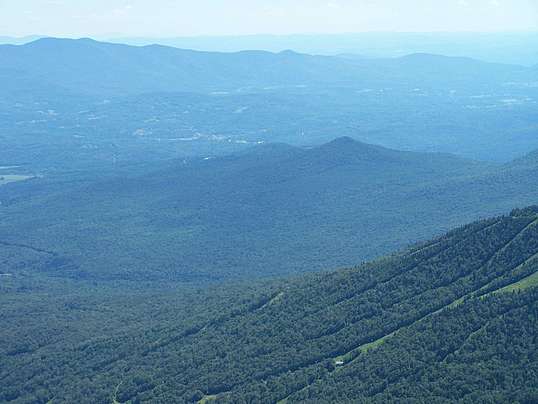 Planning for Wildlife and Trails
Adams Camp has long been near the heart of Stowe's outdoor culture. It is home to a fast-growing trail netweok enjoyed by thousands every year for hiking, running, moutain bike riding, wildlife observation, skiing, and more. It's 513-acres of forests also provide essential habitat for wildlife, among many other ecological values. This year, Stowe Land Trust is partnering with the University of Vermont's Field Naturalist Program and Stowe Trails Partnership to assess Adams Camp's ecology and trails. This project is the first step in helping us develop a sustainable management plan for the forest's future.
With our partners, we are currently conducting a study of the property's wildlife habitat values and current state, essential information for long-term stewardship and recreation planning. While climate change and community growth pose challenges for conserved lands, we are committed to working closely with partners, landowners like Trapp Family Lodge, volunteers, and trail users to protect these spaces for future generations.
Stay tuned for updates from the field on our latest findings from Adams Camp!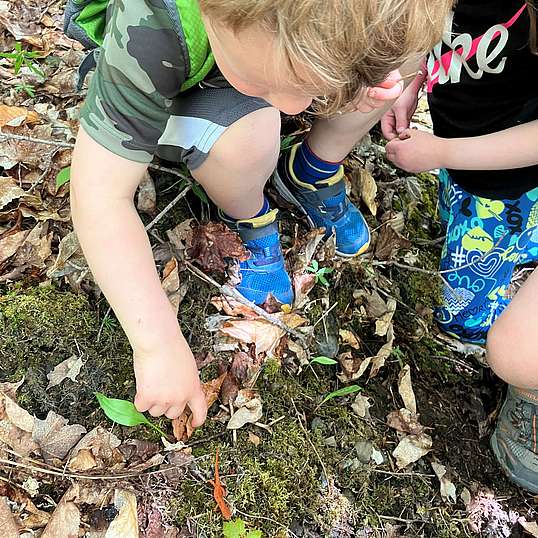 Making Every Kid an Outdoor Kid
Even in rural, recreation-centered regions like the Stowe area, kids are spending less time outdoors than ever. Local educators and schools are looking for ways to instill a sense of place in their students, and to help them get outside more often, but are faced with many competing needs and limited resources. As a trusted partner of local schools, summer camps, and afterschool programs, Stowe Land Trust is uniquely positioned to help meet their needs. We are strengthening our commitment to the next generation by implementing the Learning Landscapes program model here in Stowe, providing teachers, staff, students, and families the resources they need to learn, grow, and play outdoors.
TIme spent outdoors offers multiple benefits for school-aged children, including improvements in academic performance, emotional regulation, and social skills. By protecting and improving outdoor classroom spaces within a 10-minute walk of local schools, we can help schoolgroups get outside more often. Working with local schools, landowners, students, families, and volunteers, we can create a learning environment where every student in the Stowe area has the opportunity to become an outdoor kid.
For more information on this developing programming, and to find out how you can help, email Barry Matthews, Community Engagement Manager.
Expanding Recreation for All
Did you know 80% of the more than 4,500 acres of land and water we have protected is open for public access, including all five properties Stowe Land Trust owns and manages: Wiessner Woods, Kirchner Woods, DuMont Meadow, the Mill Trail, and Page Forest?
Our commitment to conserved land doesn't stop once a place is protected, we're out in the field year round making sure its trails are in great shape, and its conservation values are being protected.
This summer, we're focusing some of our stewardship work on Wiessner Woods. Conserved more than 30 years ago, Wiessner Woods has become a favorite destination for Stowe locals and visitors alike. Over the next few months we'll be working with partners and volunteers to make improvements to the property which will maintain its quality trail network, and make WIessner Woods more accessible for more people. We'll be replacing bridges and boardwalk at the end of their life cycles, and beginning much-needed parking lot improvements. Interested in getting involved? Visit our Volunteer page to learn more about how you, your friends and family, and your workplace can help us keep Stowe special.
The Shutesville Hill Wildlife Corridor Partnership
The Shutesville Hill Wildlife Corridor crosses Route 100 on the Waterbury-Stowe town line and is one of the only largely forested pathways remaining for wildlife to move between the larger habitat blocks found in the Worcester Range to the east and main Green Mountain chain to the west. Stowe Land Trust is working with local, statewide, and regional partners to help keep the corridor open and safe.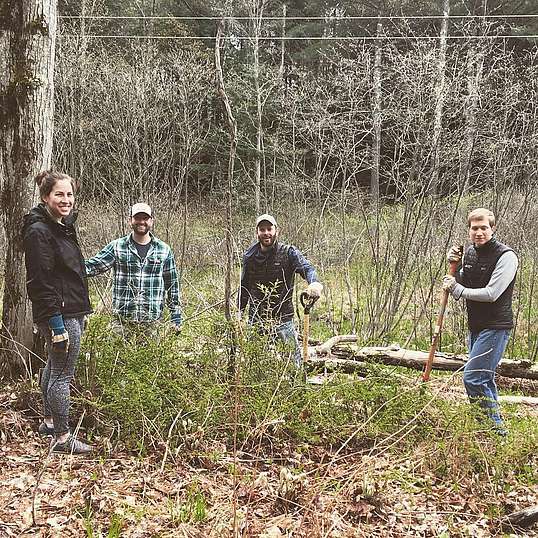 Cady Hill Barberry Removal
Since 2015, the Town of Stowe and Stowe Land Trust have been working with local organizations and volunteers to tackle Cady Hill's plant problem: an abundance of invasive Japanese barberry.
Originally brought to the United States as an ornamental shrub, Japanese barberry has now escaped into Vermont's forests and fields. If left unchecked, it will out-compete all other native under-story species until it is the only plant life remaining. Areas with high barberry populations tend to have increased rates of Lyme disease because the shrubs are the perfect height for ticks to hang out and wait for a ride, and mice, which are the alternate host for Lyme disease, thrive in the safety of thorny barberry stands.
Since 2015, volunteers have helped us remove more than 5,000 barberry plants from Cady Hill.