Main content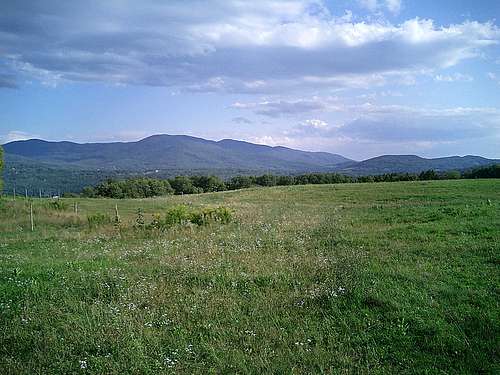 Location: off Weeks Hill Road in Stowe, Vermont
Date Protected: December 1999
Acres: 22
Landowner: Privately owned; conservation easement held by Stowe Land Trust
Conservation Purposes: The primary purpose of the easement is to permanently preserve and protect the productivity and viability of the agricultural soils, as well as the natural and scenic values of the property.
Project Background: Noting the threat of this property and the value of expanding Percy's Dairy Farm, the Giordanos purchased the Meadow Lot and immediately donated the property to Stowe Land Trust. After placing a conservation easement on the property, Stowe Land Trust sold the meadow to Paul Percy to expand his farm.
Not only did the donors and Stowe Land Trust conserve this meadow, encourage local agriculture, help preserve Stowe's rural character, and maintain a local view shed, a Right of First Refusal was secured on the Percy Hill Farm. If the Percy family ever decides to sell their farm, Stowe Land Trust will have the opportunity to either purchase the development rights or purchase the land outright. This is a wonderful opportunity since this 100-acre farm is one of the largest in Stowe, contains prime agricultural soils, and has spectacular views of Stowe Village and the surrounding valley.
Property Description: The Meadow Lot is 22.02 acres of open agricultural land. The western side is bordered by a predominantly residential Planned Unit Development. Additional residential properties, as well as agricultural lands, surround the remainder of the Meadow Lot. Much of the property slopes slightly, with a level plateau in the northwest corner. The northern boundary of the parcel is bordered by Paul Percy's dairy farm; the western and part of the southern border abuts the Stowe Club subdivision. It is currently open space with scenic views to both the south and east.
Public Access: As this property is actively used for agricultural purposes, there is no public access.
Directions: The property is located off of Weeks Hill Road. From the intersection of Route 100 and 108 in Stowe Village, travel 0.6 miles. Turn right onto Weeks Hill Road and travel 1.3 miles to Percy Hill Road. The property will be on your left. It's part of the Percy Hill Farm.
Conserved in 1999
Owned and farmed by Paul Percy
Prime agricultural soils will always be available for farming
Properties Grouped by Conservation Value
Select a category to view related properties.