Main content

Current Stewardship Projects
Last updated December 2019
Caring for conserved land is a forever job - one we take seriously and enjoy. These are some of our current projects. As you can see, we rely on help from volunteers to get much of this work done. Interested in helping out? Learn more about volunteering with SLT or contact us at info@ stowelandtrust.org or 802-253-7221. We'd love to have you join us!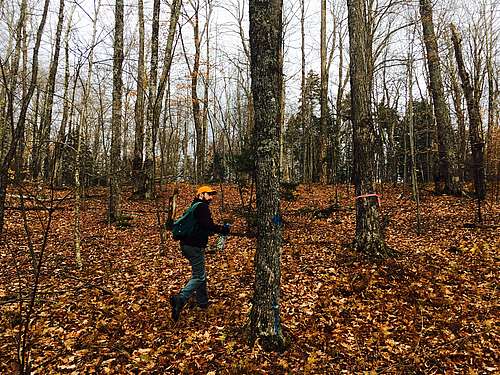 Improving Timber and Songbird Habitat at Kirchner Woods
This project has been postponed until Winter 20/21
Although best known for its network of public trails, Kirchner Woods has a long history as a working forest, and it was tended for many years as a sugarbush and woodlot by its previous owner, Jerry Kirchner. Now Stowe Land Trust is carrying on the tradition of actively managing the forest for wood products like firewood and timber, with the added goal of improving habitat quality and demonstrating best forest management practices. After creating a specific harvest plan, securing a grant from the Natural Resources Conservation Service, and hiring a consulting forester to administer the project, we began marking trees to keep and cut in fall 2017.
The silvicultural treatments that will be applied over the project's 32 acres are drawn from guides created by Audubon Vermont and the Vermont Department of Forest, Parks & Recreation's Foresters for the Birds project. Some trees will be dropped and left on site to add cover and perch sites for birds and other wildlife. Others will be harvested and used for firewood and lumber.
In the winter of 2017/2018 harvest began in an area to the west of Upper Bucket Trail. A silvicultural technique called crop tree release was used in this forest stand to select the healthiest and most desirable trees as crop trees, and then remove some of the trees around them, thereby releasing them from competition and encouraging continued growth. In this stand, all of the cut trees were left on site to create structure and woody debris on the forest floor - an important habitat feature for many animals.
In February 2020, SLT is scheduled to complete the harvest on the remaining acres in the 32-acre total project area. The harvest this winter will use a combination of the crop tree release technique and canopy gap formation. Creating small gaps in the canopy allows more sunlight to reach the forest floor, which in turn promotes growth of new trees. These canopy gaps will be spread out across the project area with the goal of encouraging regeneration of quality hardwood species like maple and yellow birch and increasing diversity in forest structure for the benefit of wildlife.
Questions? Send SLT's Conservation Program Manager, Elisabeth, an email at elisabeth@ stowelandtrust.org
---
Kirchner Woods will be closed while the property is being logged. Please plan to visit another SLT conserved property during active logging. Timing is subject to change - updates will be posted online and at Kirchner Woods.
---
Removing Invasive Japanese Barberry from Cady Hill Forest
Cady Hill Forest is a great example of cooperative management of a community resource. Conserved in 2012, Cady Hill Forest is owned by the Town of Stowe, who has an agreement with Stowe Trails Partnership to manage the extensive trail system, and is subject to a conservation easement co-held by Stowe Land Trust and the Vermont Housing and Conservation Board. Since 2015, the Town of Stowe and Stowe Land Trust have been working with local organizations and volunteers to tackle Cady Hill's plant problem: an abundance of invasive Japanese barberry.
Originally brought to the US as an ornamental shrub, Japanese barberry has now escaped into Vermont's forests and fields and if left unchecked, will out-compete all other native under-story species until it is the only plant growing in that area. Areas with high barberry populations tend to have increased rates of Lyme disease because the shrubs are at the perfect height for ticks to hang out and wait for a ride, and mice, which are the alternate host for Lyme disease, thrive in the safety of thorny barberry stands.
Since 2015, more than 5,000 barberry plants have been removed with the help of volunteers from Vail, National Life Group, Laraway School, and Bishop Marshall School - to name a few. With funding from the Patagonia Retailer's grant through A.J.'s Ski & Sports, Stowe Land Trust and the Stowe Conservation Commission have been able to hire a professional crew from the Intervale Conservation Nursery in Burlington to assist with removal efforts in 2018 and 2019. This crew brings dedication and experience removing invasive plants, and they have been able to tackle some of the tougher areas - like the wetland under the powerlines - that volunteers would not have been able to get to.
Completely eradicating Japanese barberry in Cady Hill Forest would be nearly impossible, but our efforts so far have been very effective in keeping the barberry contained to the powerlines and away from the recreational trails. With that goal in mind, we are planning to continue this work in 2020 and beyond.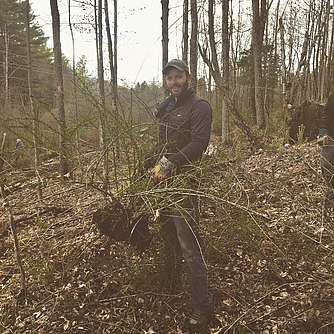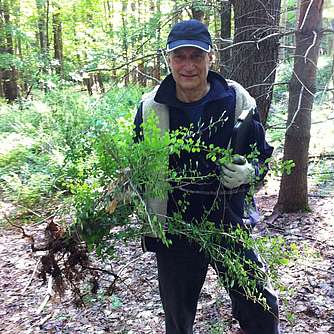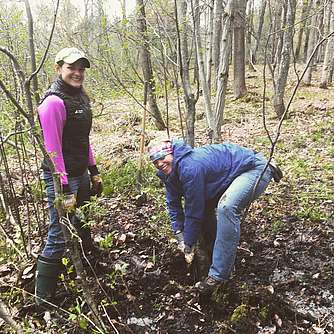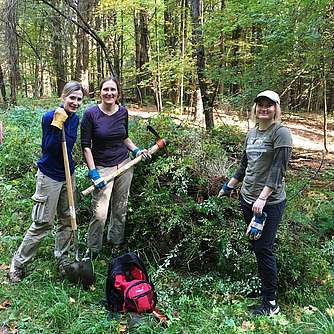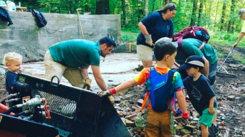 Improvements at the Mill Trail Property
SLT has owned and managed the 35-acre Mill Trail property in Stowe as a community natural area since 2003. Trails on the property are open year round and provide family-friendly access to Bingham Falls and the West Branch of the Little River and are very popular, particularly during the summer months.
In 2018, with the help of volunteers, Stowe Land Trust improved trail access to the river and created a simple naturalized picnic area on the site of the old Blacksmith Shop. In summer 2019, an interpretive sign was installed at the picnic area which explains the rich natural and cultural history of the area.
Future improvements include plans to beautify the old cement foundation wall at the Blacksmith Shop site, and build a permanent toilet facility for use by school groups on outings with the Summer Naturalist Program, and visitors to the property.