Main content

Current Stewardship Projects
Last updated July 2021.
Caring for conserved land is a forever job - one we take seriously and enjoy. These are some of our current projects. As you can see, we rely on help from volunteers to get much of this work done. Interested in helping out? Learn more about volunteering with SLT or contact us at info@ stowelandtrust.org or 802-253-7221. We'd love to have you join us!
Wiessner Woods Bridge Rebuild
Did you know that the trails at Wiessner Woods have more than 20 footbridges? That's a lot of bridges! We have been caring for and improving these beloved trails since 1992, and our work is never done. As the bridges age, they naturally rot, so we've been replacing a couple bridges each year since 2013. In 2021, we will be rebuilding the Howard Carol Memorial Bridge on the Sugarhouse Loop. Keep an eye out for volunteer opportunities to help!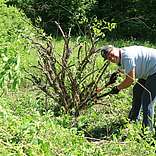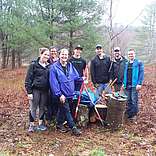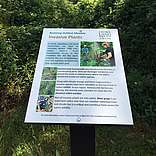 We are working on a multi-year effort to restore native biodiversity and habitats at our 50-acre conserved DuMont Meadow property in Moscow.
After inventorying the plant communities and invasive plants on the property in 2014, we created a management plan and weed plan to help us meet our goal.
We kicked off our invasive plant control efforts in spring 2016 by beginning to cut back the infestation of mature non-native, invasive bush honeysuckle plants in the meadow, then brushhogged the meadow and used an excavator to pull out more mature honeysuckle plants in the fall.
In 2017, we continued removing honeysuckle and planted more native trees and shrubs along the Little River resulting in a mosaic of healthy habitats in small area that collectively attract and support a wide array of native plants and animals.
In 2018 and 2019 we continued hand pulling honeysuckle sprouts in the meadow with the help of volunteer groups like National Life Group and individuals interested in giving back to the land. When an old white pine fell in the meadow and blocked Alex's Trail, we rerouted the trail to leave the tree in place - creating excellent habitat and protection from predators for small mammals and birds.
Thanks to grant funding from the Oakland Foundation we were able to create a trail map & brochure for the property and reprint the interpretive signs in the meadow on a more durable material in 2020. Thanks to an enthusiastic family of volunteers we were also able to cut back (nearly) all the honeysuckle sprouts in the meadow before having the field brushhogged again in October 2020.
Plans for 2021 include another round of riparian planting along the Little River in the meadow and contining to address honeysuckle growing in the meadow. Stay tuned for volunteer opportunities to get involved!
Related Links
Goodbye Invasives, Make Room for the Natives
DuMont Meadow Restoration Underway
Removing Invasive Japanese Barberry from Cady Hill Forest
Cady Hill Forest is a great example of cooperative management of a community resource. Conserved in 2012, Cady Hill Forest is owned by the Town of Stowe, who has an agreement with Stowe Trails Partnership to manage the extensive trail system, and is subject to a conservation easement co-held by Stowe Land Trust and the Vermont Housing and Conservation Board. Since 2015, the Town of Stowe and Stowe Land Trust have been working with local organizations and volunteers to tackle Cady Hill's plant problem: an abundance of invasive Japanese barberry.
Originally brought to the US as an ornamental shrub, Japanese barberry has now escaped into Vermont's forests and fields and if left unchecked, will out-compete all other native under-story species until it is the only plant growing in that area. Areas with high barberry populations tend to have increased rates of Lyme disease because the shrubs are at the perfect height for ticks to hang out and wait for a ride, and mice, which are the alternate host for Lyme disease, thrive in the safety of thorny barberry stands.
Since 2015, more than 5,000 barberry plants have been removed with the help of volunteers from Vail, National Life Group, Laraway School, and Bishop Marshall School - to name a few. With funding from the Patagonia Retailer's grant through A.J.'s Ski & Sports, Stowe Land Trust and the Stowe Conservation Commission have been able to hire a professional crew from the Intervale Conservation Nursery in Burlington to assist with removal efforts in 2018 and 2019. This crew brings dedication and experience removing invasive plants, and they have been able to tackle some of the tougher areas - like the wetland under the powerlines - that volunteers would not have been able to get to.
Completely eradicating Japanese barberry in Cady Hill Forest would be nearly impossible, but our efforts so far have been very effective in keeping the barberry contained to the powerlines and away from the recreational trails. With that goal in mind, we continued this work in 2020, hiring the professional crew from the Intervale for another three days of work, thanks again to funding from Patagonia and AJ's Ski & Sports.