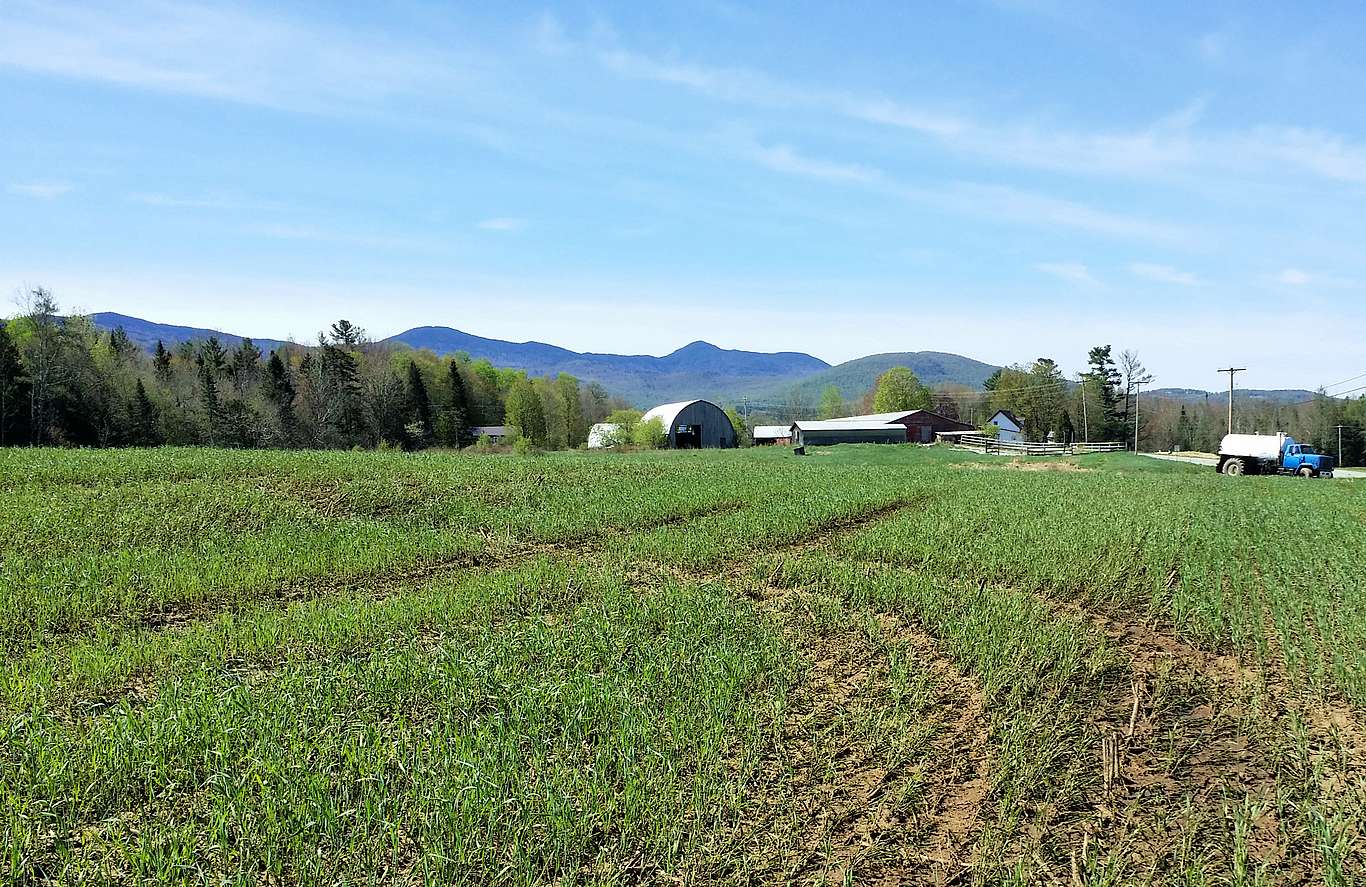 Main content
Valcour Farm
The Valcour farm is a productive mix of tillage, pasture and sugarbush. It also contains a well-known heron rookery which is now protected by a 20-acre wetland protection zone. The property's conservation protected one of Lamoille County's remaining working farms.
Vermont Land Trust worked with the Valcour family to permanently protect the Valcour Farm located at the corner of Randolph and Goeltz Roads in Morristown. The Valcour farm was simultaneously conserved and sold to the Hursh family making Jesse and Marlene Hursh the proud owners of their first farm. They and their grown children have rented a dairy farm, where they run popular farmstand, across the valley on Lyle McKee Road for over 20 years. The Hurshes will continue to milk and grow vegetables for their farm stand at the rented farm for a while and eventually plan to transfer their operation across town to the Valcour Farm property.
Public Access
In winter, a section of the Catamount Trail crosses the property. No other public access.
Directions
From the intersection of Route 100 and 108 in Stowe Village, take Route 100 north 6 miles to Goeltz Road. Turn right onto Goeltz Road. The Valcour Farm surrounds the intersection of Goeltz and Randolph Roads.
Facts
174.5 acres
Privately owned
Conserved in 2021
Randolph Road, Morristown
Friend of Stowe Land Trust (4)
Pete Adamy & Patricia Flam
Jane and Stephen Alpert
John Angier & Linda Zamvil
Thomas and Patricia Auer
Gary and Nancy Banks
Raymond and Sengdao Bergmann
Steve Berson and Cynthia Allen-Berson
Betty and Carvel Bevans Jr.
Ron Biedermann
Emily and Richard Bland
Beth and Barton Bradford
Robert Brown
Chess Brownell
Paul Chebator & Mer Zovko
Stephen G. Cole
Robert DiMario & Helene G. Martin
John and Doren Dolan
Kathleen Donahue
Rachel Duffy
Evie Dworetzky
Dr. and Mrs. Arthur Esswein
Sean and Amy Fernandez
Fran and George Gotcsik
Phil Grant
Margot and Donald Hall
Erica and Lucas Harris
Jed and Amy Harris
Nathan Hemmer
Margaret Higgins
Natalie and Tom Hubbs
Tom and Kathy Jackman
George and Cindy Jackman
Richard and Clea James
Tom and Laura Jordan
John and Diane Kemp
Deedle Kiley
Larry and Peg Lackey
Kevin and Allison Lane
Walt Levering & Carolyn Ruschp
James and Jacquelyn Lindenmeyer
Joseph and Lori-Ann Loughnane
The Meditz Family
Merna and Gerald Morse
Sara Pennock
John and Wilma Peterson
Bill and Sylvia Pope
Paula and Rich Reynolds
Ed and Ruth Ann Rogers
Stewart Ruth
Richard and Heather Sargent
Kristen Sharpless & Michael Snyder
Jon and Karen Shreter
Union Bank
Richard and Anne Smith
Ron and Judy Stancliff
Aimee and Hannah Stearns
Dwight and Joan Stecker
Amy Stewart
Jessica Stitson
Deb and Rob Taylor
Town of Morristown
Kathy and Ted Truscott
John and Allison Turkowski
Gaetano and Susan Vicinelli
Kyle and Laura Walker
Richard and Sally Watts
David Wilkens & Molly Pindell
Roger M. and Jill J. Witten
In Memory of David Sequist, D.V.M
Charlie and Gibby Berry