Main content

DuMont Meadow
Paul Joseph DuMont and Alma Clark DuMont Conservation Property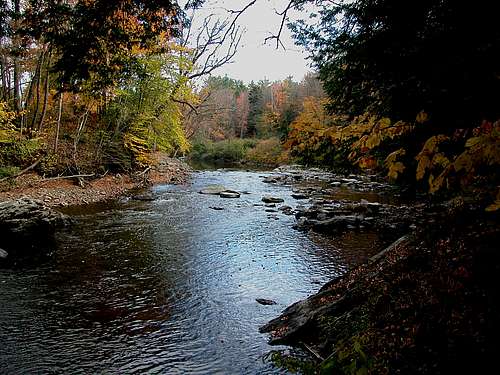 Location: Nebraska Valley, Moscow

Date Protected: December 2003; easement donated to SLT by Paul, Rosemary and Bruce DuMont in memory of their parents, Joseph and Alma Clark DuMont

Size: 47 acres

Landowner: Stowe Land Trust

Conservation Purposes: Provide for permanent non-motorized public recreational access, and for forestry purposes.
Property Description: The property consists of mostly mature northern hardwood forest and a semi-open meadow adjacent to the Little River. The Little River Block of Mt. Mansfield State Forest abuts the conserved property to the west and south and town-owned land borders to the east. Alex's Trail, built by the Stowe Mountain Bike Club in memory of local outdoor enthusiast, Alex Roberts loops through the property from the trailhead at town-owned property at the end of Adams Mill Road. The 1.5 mile meandering trail is open for hiking, biking, snowshoeing and skiing.
Since taking ownership of the property, Stowe Land Trust has been restoring the native biodiversity and wildlife habitat quality on the property by (1) removing non-native, invasive plants, (2) planting native trees and shrubs in the riparian zone along the river, and (3) brush hogging the meadow to maintain quality habitat for pollinators and other wildlife.
Public Access: Access to DuMont Meadow is from town-owned property at the end of Adams Mill Road in Moscow. Want know which uses are allowed on our SLT-owned lands or make a request to use this property for a group outing, tour, or event? Check out our visitor information page or online Use Request Form.
Directions: From the intersection of Route 100 and Route 108 in Stowe, travel south on Route 100 and turn right onto Moscow Road. Turn left onto Adams Mill Road just before the bridge that crosses over the Little River. Take the first right to continue on Adams Mill Road continuing on the dirt track past the last house. Parking for 3-4 vehicles is located at the small pull-off on the left just before the gate. Walk along the track past the gate and look for the trailhead sign at the far end of the clearing.
"My father bought this property in the 1970's strictly to protect the beautiful view of the Worcester Range."
Conserved in 2003
Alex's Trail is a beginner bike loop
Adjacent to Mt Mansfield State Forest
Demonstration site for ecological improvement efforts including mechanical invasive plant control, pollinator habitat management, and riparian floodplain restoration.
Properties Grouped by Conservation Value
Select a category to view related properties.