Main content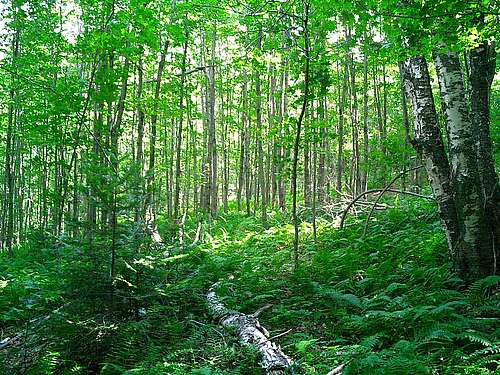 Location: Off Maple Run Lane in Sterling Valley
Date Protected: December 2001; easement donated by Ron and Judy Stancliff
Acres: 11 acres
Landowner: Privately owned; conservation easement held by SLT
Conservation Purposes: The primary purposes of the conservation easement are to conserve and protect the forest, wildlife habitat, natural communities, and native flora and fauna; to foster recreational use of the property; and to protect the undeveloped character of the property for present and future generations.
Project Background: "There are certain places that just should not be developed," said Ron Stancliff. To honor this belief, and their numerous days hunting and hiking on their property, Ron and Judy Stancliff conserved their 11 acres at the end of Maple Run Lane with Stowe Land Trust. Its conservation expands the abutting preserved land and buffers Sterling Town Forest from encroaching development.
Property Description: The Stancliff property is approximately 11 acres of forest land containing mostly northern hardwood trees with some mixed softwoods, primarily spruce trees. Topography ranges from mildly sloping to relative steep, with the southern section of the property being the steepest. A general upward slope exists from north to south and views from the property are very appealing to the south and east. The property is crossed by old skidder trails. The Old Billings Road divides the northern section and serves as a legal right of way. The western and northern side of the property is bordered by Sterling Town Forest. In then northern corner of the property is a camp. A mountain bike trail runs across the northern part of the property. Extensive signs of deer have been seen on the property.
Public Access: The property may be used for all types of non-commerical, non-motorized dispersed outdoor recreational purposes including: birdwatching, cross-country skiing, hunting, snowshoeing, trapping, walking, wildlife observation and mountain biking. E-bikes are not permitted.
Sterling Forest Trail Map - winter
Directions: The Stancliff property is located at the end of Maple Run Lane and can be accessed from the Sterling Gorge parking area at the end of Sterling Gorge Rd. From the intersection of Route 100 and Route 108 in Stowe Village, travel north on Route 108 for 0.6 miles. Turn right onto Weeks Hill Road and travel for 1.3 miles. Turn right onto Percy Hill Road and travel for 0.6 miles. Turn slightly left onto West Hill Road. Continue on West Hill Road to the intersection with Moren Loop. Turn left onto Moren Loop and follow to the intersection with Sterling Valley Road. Turn left on Sterling Valley Road and continue until the left turn for Sterling Gorge Road. Park in the lot to the right of the road before the bridge.
"There are certain places that just should not be developed."
- Ron Stancliff referring to his property in Sterling Valley
Conserved in 2001
Adjacent to Town owned Sterling Forest
Old Billings Road - popular with hikers, hunters and mountain bikers - crosses the property
Properties Grouped by Conservation Value
Select a category to view related properties.