Main content





Brownsville-Story Ridge Forest
Location: The Property is part of C.C. Putnam State Forest and located off Brownsville Road in Stowe.
Date Protected: July 2019; SLT purchased the land and transferred it to the State of Vermont
Acres: 758.82
Landowner: State of Vermont; SLT co-holds a conservation easement with the Vermont Housing & Conservation Board.
Conservation Purposes: The primary purpose was protection of the property's undeveloped character, wildlife habitat, natural communities, native flora and fauna, and dispersed public access to the property. The secondary purpose of protection was to provide public non-motorized outdoor and trail-based recreational access.
Property Description: This 750-acre parcel supports 10 distinct natural community types. 92% of the natural communities on the property are considered state-significant. The forest is predominantly a northern hardwood forest consisting of tree species such as sugar maple, yellow birch, and American beech. Hemlock and red spruce forests can also be found on the property. There are two open meadows in the center of the property which cover 7 acres. These open areas provide views across the valley to the Green Mountains and a variety of meadow and early successional forest habitat for wildlife.
Although Brownsville Forest was an active hill farm community through the 1940s, today, it feels wild and remote. Before the property was posted several years ago, neighbors and community members long appreciated using the land for hunting, horseback riding, mountain biking, cross country skiing, walking and more.
Brownsville Forest is part of the Worcester Range: one of Vermont's most wild and least protected mountain ranges. The State of Vermont has designated the Worcesters as a Highest Priority Area within the state and the region for maintaining biodiversity and an ecologically resilient landscape in the face of climate change. Protecting Brownsville Forest is a local conservation effort that will have a global impact.
Public Access: Brownsville-Story Ridge Forest is open to the public for a variety of non-motorized recreational activities. A limited trail network is currently open to pedestrian use, and all trails on the property are closed to bikes until trail improvements can be made to meet industry standards for mountain bike trails. Click here to see a map of open pedestrian trails.
Permitted uses of the property include:
hiking
hunting, trapping, fishing
skiing
snowshoeing
wildlife observation
Mountain biking, horseback riding, and motorized recreational activities (including snowmobiling) are restricted to town roads.
With support from local partners, including Stowe Trails Partnership and Stowe Land Trust, the Department of Forests, Parks, and Recreation will continue assessing and working on the trail network with the goal of opening additional trails and allowing more uses as improvements are completed.
Parking is along the road or in small pull-offs on the side of the road. Please pull out of the way of driveways and traffic, and be respectful of neighbors and adjacent private land. This includes keeping your dog leashed or otherwise under control so as not to disturb the neighbors and their animals. Pet waste should be picked up and carried off the property to a trash can or at minimum, removed from the road or trail it was deposited on.
Directions to the land: From Stowe Village take Route 100 north to Brush Hill Road. Turn right and follow Brush Hill Road up to the top of the hill where it takes a sharp right turn at the Morrill Farm and becomes Brownsville Road. The closest portion of the property will be an open field on the right in half a mile. Brownsville Road then continues through Brownsville-Story Ridge Forest and connects on the other side of the property with Moss Glen Falls Road.
<link news detail news-750-acre-brownsville-tract-in-stowe-becomes-state-forest>750-Acre Brownsville Tract in Stowe Becomes State Forest
<link news detail news-stowe-land-trust-exceeds-brownsville-forest-campaign-goals-early>Stowe Land Trust Exceeds Brownsville Forest Campaign Goals Early
<link news detail press-stowe-land-trust-launches-community-campaign-to-protect-brownsville-forest>Stowe Land Trust Launches Community Campaign to Protect Brownsville Forest
<link news detail press-big-gift-aids-push-to-save-a-key-forest>Big Gift Aids Push to Save a Key Forest
<link news detail slt-receives-5-million-toward-purchase-of-750-acre-brownsville-forest>SLT Receives $5 Million Toward Purchase of 750-acre Brownsville Forest
Properties Grouped by Conservation Value
Select a category to view related properties.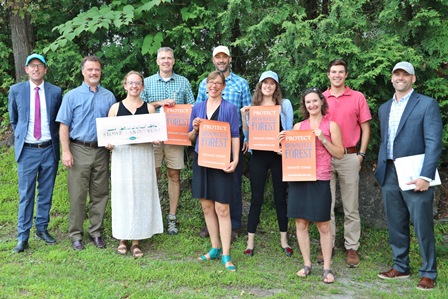 See the 750-acre Brownsville Forest from the air.